If you've been following along with the Frequent Miler Instagram story (and/or the story on my Instagram account if you're #3C3CTeamNick), you know that I just can't stay put. I spent Sunday in Egypt (seeing the pyramids and more), Monday in Istanbul (crossing the Bosphorus strait to pick up two continents in one day), Tuesday in Muscat, Oman (and in the Daymaniyat Islands — the footage of a whale shark nearly running me over came from the boat ride out to the islands and the sea turtles were at the Daymaniyat Islands), and since I'm coming to you from the future I spent Wednesday in Bangkok, Thailand checking out a famed flower market and the Grand Palace and  I am already up in the air again as this post publishes. I've flown entirely in business class so far and including the flight I'm on at the time of publication, I'll have already flown 5 segments on 4 different airlines — all on a single ticket. Thank you, Air Canada Aeroplan.
I've written a couple of previous posts about my love affair with Air Canada Aeroplan that would serve as a good primer for this post:
In fact, the itinerary on which I am currently flying is not remarkably different from some of the examples I have given in those posts. The shortest version of the story is thqat Air Canada Aeroplan allows up to 6 segments on a one-way award and they also have more airline partners than any other airline program. Furthermore, they let you mix and match partners on a single ticket (just be prepared for some strange looks at check-in!).
What I've flown and how much it has cost
In my case, so far on my one-way Aeroplan business class awars I have flown:
Egyptair business class from Cairo to Washington, DC. This flight was on their 787, which is much nicer than their more common 777, which you may have seen in other reviews. I thought it was a solid fine. The seat was comfortable enough and service was friendly and helpful enough that I'd not hesitate to fly them again. Nothing exceeded expectations, but neither did anything disappoint. I arrived around 5am and departed around 8:30pm., giving me plenty of time to se the city pretty well. See pic above.
Turkish Airlines regional business class from Cairo to Istanbul. These seats had a power reclining feature but they did not extend to flat bed seats. That didn't really matter to me since this was a 2.5hr flight. Service was decent and the food tasted better than it looked. I arrived in Istanbul late (around 1am) and departed in the evening around 6:30pm. That gave me plenty of time to take my 2.5hr Bosporus cruise that departed at 10:30am and still have some extra time left over.

Turkish Airlines regional business class from Istanbul to Muscat, Oman. This plane was a bit different. The seats looked new and seemed more comfortable initially, but they reclined the old-fashioned way (by holding a button and having your weight on the seat rather than as a power function). I knew this route was operated by an A321 when I booked it. I was happy because it gave me a chance to check out the Turkish lounge in Istanbul. I arrived in Muscat a little past midnight and was in Muscat until 9pm. That meant I was able to easily make my snorkeling tour at 8:30am that lasted until about 1pm and have plenty of time afterward to shower up and get back to the airport.

Oman Air business class (aboard their 787) from Muscat to Bangkok. This was my first experience with Apex suites. I liked them for sleeping, but I was surprised at how much I disliked the narrow width of the seat. There just wasn't much room to put anything to the left or right, which seemed weird in business class. That said, onboard service was excellent and the menu was presented in a leather binder and pajamas were given upon request, along with a mattress topper and blanket. Unfortunately, they didn't have the Arabic Mezze I wanted (what? a flight departing the home base in the Middle East didn't have enough mezze?), but overall the experience was very pleasant. In  hindsight, this flight was too short. At just 5.5hrs of flying time, I think I probably only got like 2 hours of sleep. I actually felt fine sight-seeing in Bangkok afterward (I went to a large flower market and the Grand Palace and associated temple before poking around the backpacker haven of Khao San Road, but by late afternoon a combination of lack of sleep and the heat had gotten to me a bit. If I didn't feel like I needed to eat dinner in order to write about it for the blog, I'd have probably slept 5 hours and been good to go.

By the time this post publishes, I'll be flying another Air Canada partner to yet another country. I'll give you this much of a hint: it isn't a Star Alliance carrier. :-). This will be lie-flat business class. Want another hint? I boarded before this post published and snapped this pic. Anyone want to guess what airline and where I'm heading next?

Flight #6 will be on yet another airlines. This will also be lie-flat business class.
The cool thing about this itinerary is how relatively little it cost. Itineraries from North America to the Pacific zone (essentially all of Asia and Australia / New Zealand) cost at maximum 115,000 miles one way in business class (note that this applies to itineraries with a total distance of 11,001 miles flown or more).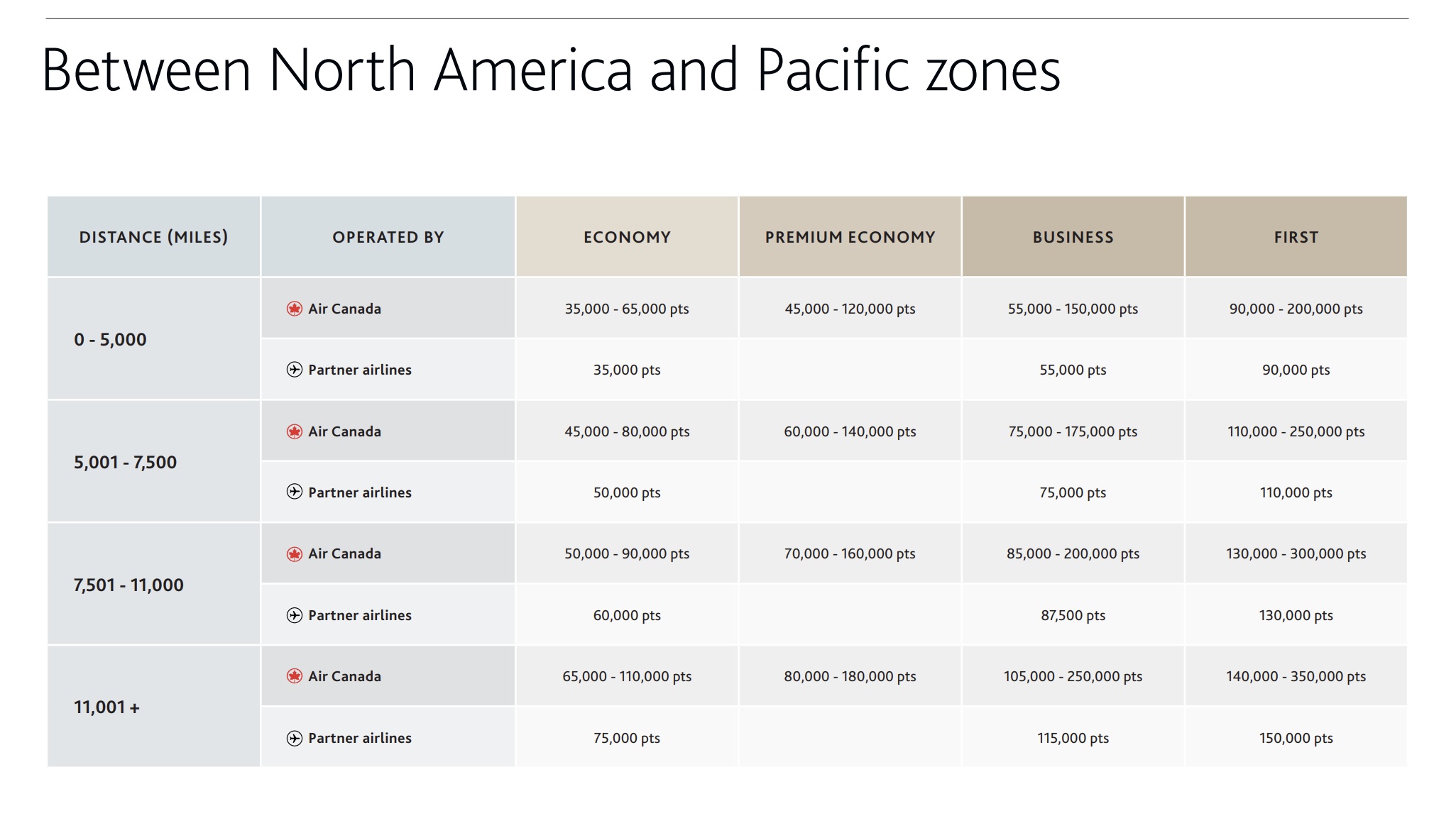 Unfortunately, Air Canada recently increased the redemption rate on this award. When I booked it this summer, that business class award band was 105,000 miles one-way.
Note that a stopover costs an additional 5,000 miles. I considered booking a stopover, but I ultimately decided against a stopover since I was satisfied that layovers in the range of 10-18 hours at each stop would give me enough time to do something cool / fun / exciting even if it left me wanting for more on my next trip.
And thus that is exactly what I paid: 105,000 miles one way. I also owed some taxes, but Aeroplan does not impose other surcharges on award tickets. My taxes & fees total was just $66. I expected to pay more, but I think that you perhaps do not owe separate departure tax for each country when you're a transit passenger? The $66 total was certainly less than the cumulative taxes on the awards if booked separately. Unfortunately, I don't know or understand the math that goes into booking a complicated itinerary like this, so the only way I know to get a total is to call Air Canada and try to book it.
How I booked it
We reported that Air Canada recently began allowing award tickets with up to 4 segments to be booked online. You can even potentially add a stopover yourself when booking online (see this post for more detail).
However, if you want to stretch the boundaries and book 6 segments, you'll need to call Air Canada. Indeed that's what I did. Hold times were rough: I had to call Air Canada several times because some of the itineraries I wanted wouldn't work and my hold time mostly ranged between 45 minutes and 2 hours. Now that more itineraries can be booked online, perhaps you'll have an easier time getting to a phone agent.
Still, it could be worth the pain. This week I saw the pyramids, Memphis, and Saqqara in Egypt for less than a hundred bucks and I took a cruise on the Bosporous for about $45 and I snorkeled with whale sharks and sea turtles for less than a hundred bucks, too. I spent far less in Bangkok even with airport transfers included. Being able to do all of those things on a single trip — with a couple of legs left to go — is a pretty fantastic value.
If you want to book an itinerary like this, your first step will be to find availability on the individual legs you want. I looked that up via AirCanada.com since Air Canada's website does an excellent job of showing award space. Once you have found the individual legs you want, call Aeroplan and feed the agent your desired flights. I got surprisingly little pushback from any Air Canada employees about my many long layovers or multi-partner itineraries. I found most agents to be surprisingly proficient in this regard.
Check-in agents on the other hand have definitely been caught off guard. Starting from the first Egyptair check-in agent in Washington, DC, I have been greeted with a pretty confused look from each check-in agent and the question, "Wait, where are you going, sir?". I have explained to each agent that Aeroplan allows some amazing awards with their frequent flyer program and that I like to visit a lot of places, which seems to smooth out the confusion for the most part. I did have one agent in Istanbul who asked to see my ticket number. He told me that I had a reservation for the flight to Muscat but that it wasn't ticketed. I explained to him that I had flown the previous leg in to Istanbul just the day prior on Turkish, but that didn't seem to matter as much until he saw my ticket number. Luckily, I had the confirmation email from Aeroplan with the ticket  number. That did the trick as he was printing my boarding pass moments later without explanation.
Note that I wouldn't expect non-star-alliance carriers to definitively be able to check you in / handle paperwork if you're traveling on an itinerary mixed with non-Star Alliance awards. That said, when I checked in at Istanbul airport for my flight from Istanbul to Muscat, the Turkish Airlines agent also gave me a boarding pass for the Oman Air flight to Bangkok (I ended up going to the check-in counter again in Muscat anyway and getting a boarding pass printed on Oman Air stationary.
Bottom line
3 Cards, 3 Continents is in full swing. I took off from the United States last Saturday, September 10th and as of Wednesday, I am still on just my initial outbound itinerary. It's pretty amazing to think what you can do with an accessible number of Air Canada miles. While I can appreciate that many readers won't want to spend 1 day each city on a trip across the world, what I hope this demonstrates is how much fun you can have with the right multi-partner / multi-segment award. Apart from the flight to Bangkok where I didn't have enough sleep, I've felt great in my destinations and I have been very satisfied feeling like I did something cool at each stop. No, I didn't get a full sense of Muscat or Istanbul, but neither did I feel a need to get a full sense. I went into this award expecting to get one cool experience in each place — and from the pyramids and other ancient Egyptian things I saw to the yacht cruise on the Bosporus to the incredible experience of swimming next to whale sharks, I definitely feel like I've gotten that one cool experience and more.
And of course, none of us are done — we're just heating up. Be sure you're following us on Instagram and clicking our profile pictures to see our stories, which is where most of our travel stories have been accessible. I've certainly been having fun posting those and even running a quick contest or two and I think it's the best way to follow along with the adventure.
Now onward and upward once more.